Holiday season is the time for sharing and Peta of Peta Eats is sharing a dozen cookies, some classics and some of her own from all over the world with us.
Thanksgiving break is over, and it's back to the daily grind of college. My lucky sister, whose school runs on trimesters, is already off for her six week winter break, and will be heading out to Dubai for a couple weeks to study African-Arab women. So cultured! Even though I only have three weeks left of the semester, it seems like there are so many obstacles to overcome before I get that sweet, sweet Christmas break. But there will be good things in between, and I can't forget that.
For right now, I will think about cookies and puppies (you should adopt a dog. It'll be your best friend forever. I mean, c'mon, look at this lil' guy!) Anticipating Christmas, this month's Daring Baker's Challenge was the 12 Days of Cookies! Fortunately (unfortunately?) we didn't have to make all twelve types, but instead had a choice! I like choices. One of the cookies on the list was rainbow cookies, which I adore, but I've already made them. You should make them soon. They are delightful.
I opted instead for these Chocolate Coconut Cookies, which I think was a great decision. I lurve the combination of chocolate and coconut. The outside cookie is sort of a cross between shortbread and sugar cookie, and the inside is like a coconut macaroon (except better, cause they have cream cheese, nomnomnom). If you make these, you'll likely have extra filling, so make some macaroons! Also also, these totally look like siu mai. They aren't, but you could make some and have a delicious dim sum and cookie dinner!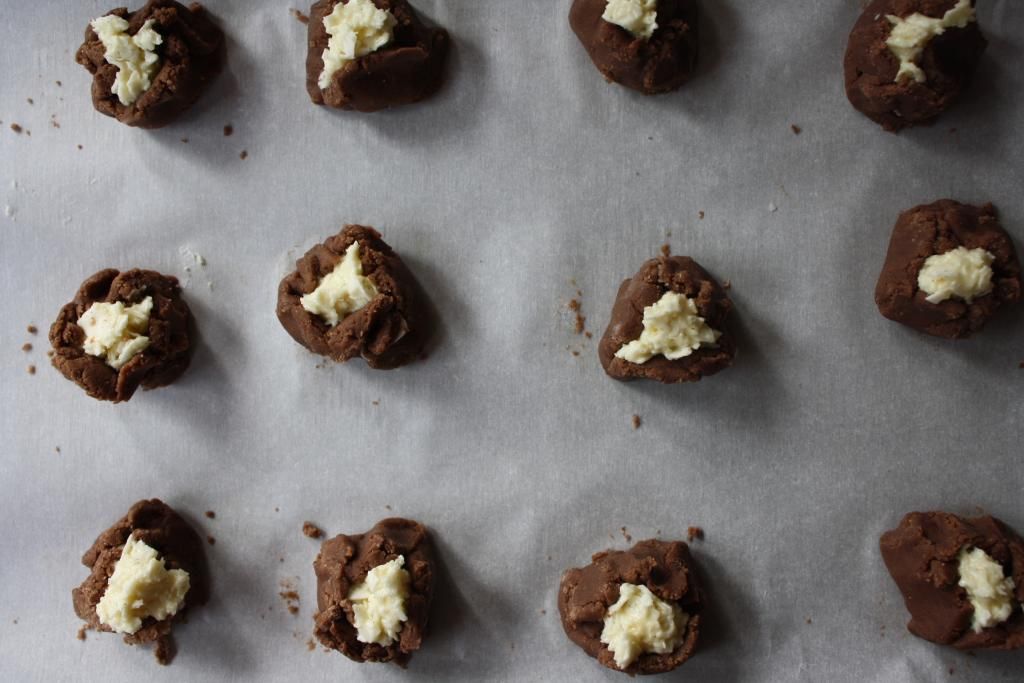 Chocolate Coconut Cookies
from Baking Glory
6oz / 175ml Cream Cheese, softened
¾ cup Sugar
1 Egg Yolk
1 ½ tsp Vanilla Extract
2 ¼ cup Coconut Flakes, unsweetened
1 ¾ cup All Purpose Flour
⅓ cup Cocoa Powder, sifted
½ tsp Baking Soda
¼ tsp Salt
1 ½ sticks Butter, unsalted
1 cup Sugar
1 Egg
Beat the cream cheese with the ¾ cup of sugar until light and fluffy. Add the egg yolk, and vanilla extract and continue mixing for another minute.
Add the shredded coconut and continue beating until everything is well incorporated.
Preheat oven to 375° F / 190° C.
In a medium size bowl, mix together the flour, cocoa powder, salt and baking soda. In the bowl of a mixer add the butter and sugar and beat together until light and fluffy, add the egg and beat until smooth.
Add the flour mixture to the butter mixture and mix until the mixture is stiff but still pliable.
Using a tablespoon, scoop some of the cookie dough into your hand. Flatten the dough into a circle that's about 2in to 3in (5cm to 7.5cm) in diameter, add about a teaspoon of the coconut mixture into the middle of it and then fold the sides of the dough but do not seal it at the top.
Repeat this with remaining cookie dough.
Place the cookies on a greased cookie sheet and bake the cookies at 375° F / 190° C for about 18 to 20 minutes